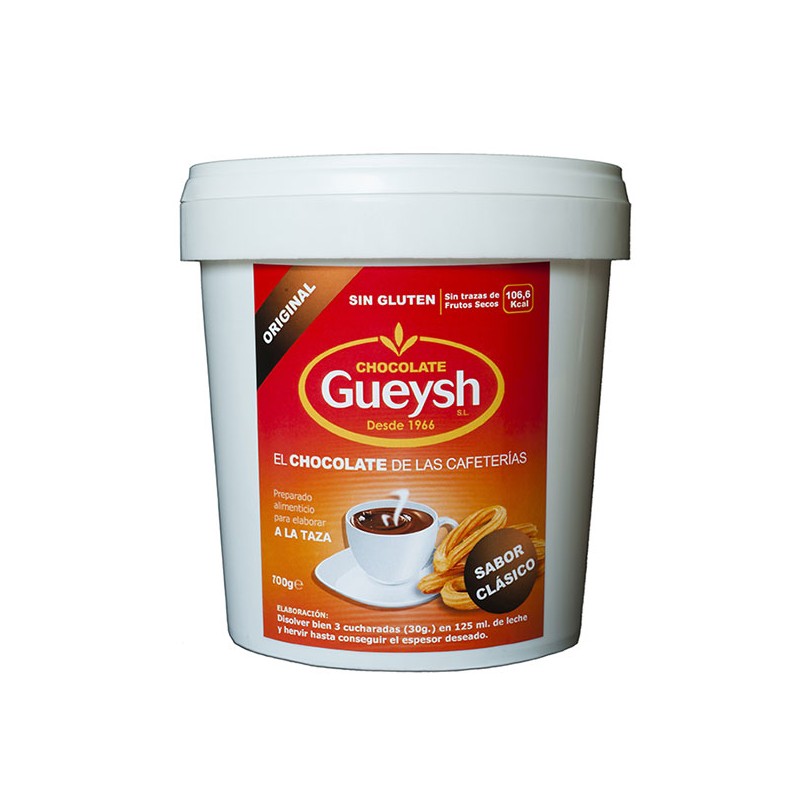  
Original Hot Chocolate
Delicious Classic Hot Chocolate
Comercio adherido a Confianza Online
Click para verificar nuestra adhesión.
Devoluciones
Información
Método y política de Envios.
Informacion
Original Gueysh Hot Chocolate.
Good things require time. We know it well: we have been making the best hot chocolate for decades. Without hurry, but without pause, we have been refining the recipe, choosing better and better suppliers, searching with determination the best ingredients, finding our true flavor. It is also known by the hundreds of establishments that have trusted us for years, which have turned our brand into the chocolate of coffee shops, the perfect ally of their breakfasts and snacks. And, of course, those who enjoy it know it. Because having a cup of good chocolate is just that: taking your time, taking a break, taking your life in another way.
And the best things are always done with love. That's why we put the best of us in the making, and that shows. An unmistakable color and shine, a soft and velvety texture, a rich flavor and full of nuances. A pleasure that is savored at every moment. Also when it is served: mix with mime, boil, let thicken ... a few minutes of dedication make the difference. Take a moment to enjoy yourself because who said that life had to be practical?
How to enjoy it
Pamper yourself with a good cup of Hot Chocolate Gueysh Original, very warm, and enjoy it even more: with churros, cookies, muffins ... or whatever. It is ideal to surprise your family at breakfast, at snack, or why not, after dinner. Dare also to use it in the preparation of sweets and desserts. Nothing can resist him, could you?
How to prepare
Serving the perfect chocolate cup is very easy, if you respect the proportions and temperature recommended for its preparation. Its ideal texture is fluid and full-bodied, not excessively dense. To obtain it, you just have to follow this sinple steps:
Prepare the quantities: 233 g of chocolate powder for each liter of milk. For a single cup, use 30 g of product for 125 ml of milk. You can do the amount you want, always respecting these proportions.
Add the chocolate powder in a little of milk, stirring until it dissolves well. Mix with the rest of the milk.
Bring it to a boil:


In a professional coffee machine: Use the fluent steam.
Stove or Vitro: Pours the mixture in a saucepan, and remove constantly until it thickens.
Microwave: heat the mixture until it boils in a suitable container, shake it again, and reheat once more until it thickens. To avoid overflowing when boiling, choose a greater container capacity than the mixture.
If you like chocolate a little thicker or a little lighter, find your favorite texture by slightly varying the proportions. You can also use skim milk to get a more intense chocolate color and flavor. And if you are looking for an even more powerful flavor, do not forget to try our variety of Intense Chocolate.
Nutritional information
per 100g
Average per serving  
Energy
106,63 Kcal / 467,25 kJ
Name: Food preparation for breakfast and snacks.
Ingredients: Sugar, corn starch, defatted cocoa (11% mg.) And cocoa powder (22-24% mg.). It does not contain gluten, nor preservatives, nor colorants, nor traces of nuts.
Conservation: Our chocolates are a mixture of top quality ingredients selected at source. To keep their aromas and all their flavor intact, we recommend storing them in a cool, dry place protected from other intense odors, and keep them at medium temperature (between 14º and 20º C) in an environment with humidity below 70%.
Presentation: Single dose of 30 g, Packaging of 400 g, Packaging of 700 g and Bags of 5 kg.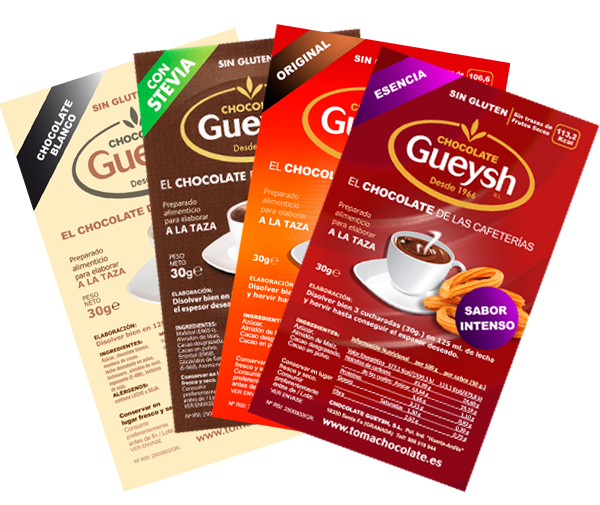 Specific References
EAN13

8437014138016
Customers who bought this product also bought: